EVENING CONCERT TICKETS ARE AVAILABLE NOW!  530-334-3697.
Concert Tickets may be purchased at:
American River Inn, Main Street at Orleans, Georgetown, 530-333-4499
Garden Valley Goods, 4671 Marshall Road, Suite B, Garden Valley, 530-333-2154
Yabobo, 107 N. Pine Street, Nevada City, 530-478-9114 or 888-840-9744
or purchase tickets by mailing a check payable to 
"Georgetown Nature Fest",  PO BOX 793, Garden Valley, CA, 95633-0793.
Include your email and phone number and Mignon will confirm receipt, and tickets will be held at "Will Call".
Blackfire is Returning!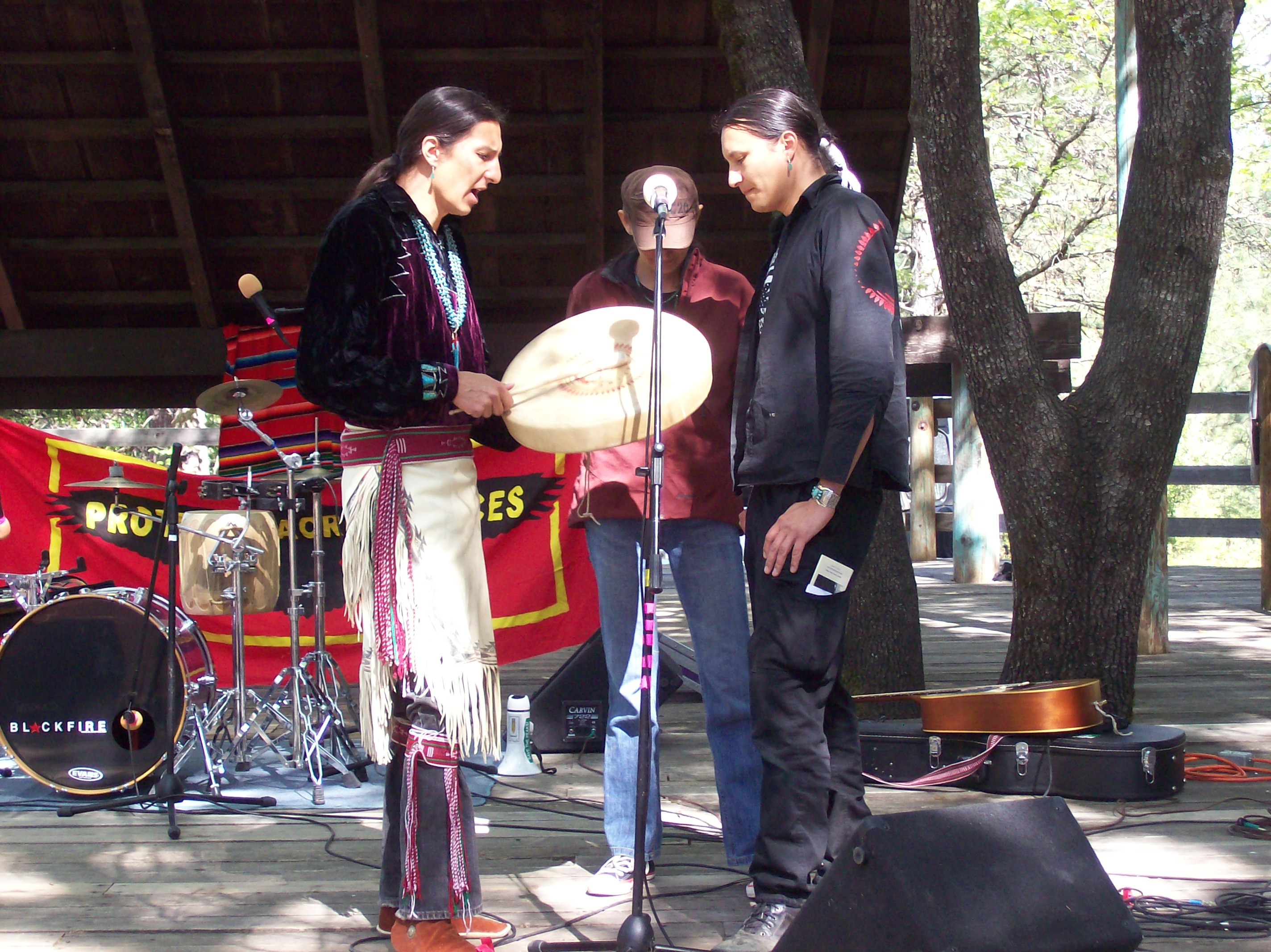 The Dineh rock group, Blackfire, will be returning for the 2011 Nature Fest and will make several appearances in the Sierra foothills area this spring. For information on how to get involved in the planning for the 8th Annual Georgetown Nature Fest, please contact Mignon Geli (530) 334-3697 or email mignon@kfok.org NATURE FEST 2011
NATURE FEST PROGRAM SCHEDULE *
  May 7, 2011
AMPHITHEATER
MCs:  Drew Woodall, Loren Nakai & Michael Ben Ortiz  

Stage Directors: Kim Taylor, Mignon Geli;  Sound:  Mike Taylor
9:00 AM:  Rick Adams, Nisenan Cultural Specialist and
                   Dennis Yonemura, NativeAmerican Spiritual Leader and Miwuk Dancers
10:00 AM: Welcome by MC Drew Woodall.
10:05 AM: The Star Spangled Banner and God Bless America:
                     Alice Palomino and Tiffini Phillips
10:30 AM: Stephen Meadows
10:50 AM: Three River Drum
11:10 AM: Gvwi: Eric Ray & Allie
11:30 AM:  Elder Gordon Boswell, EDCIC Chairman, Storyteller
12:00 PM:  Loren Nakai & Michael Ben Ortiz MCs
12:05 PM: Nakai Family Singers
12:20 PM: Kimberly Shining Star, Miwok Storyteller
12:45 PM: Miwuk Dancers
01:00 PM: Good Shield Aguilar, Indigenous Soul
01:30 PM: Otsigeya, Women's Handdrum
01:50 PM:  Stage Prep for Blackfire
02:00 PM: BLACKFIRE
03:00 PM:  Lawrence Laughing
03:30 PM:  Neena McNair Family Singers
03:50 PM:  Elders Panel: G. Boswell, Coyote, D. Ryberg, R. Garica, J. Snoke
04:30 PM:  Miwuk Dancers & Close.
* Subject to Change
NISENAN VILLAGE:
10:00 AM- 12:00:  Naturally Native: Women at the Drum. Hosted by SELU & Thoz Womenz.
IOOF HALL
07:00 PM-10:30 PM: (Doors open 6:30)  Evening BENEFIT CONCERT featuring BLACKFIRE, LAWRENCE LAUGHING and GOOD SHIELD AGUILAR, at the IOOF Hall.  $12 Advance Tickets, $15 at the Door, $5 for Youth.
 * Subject to change.